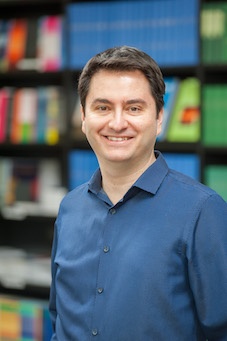 [AMD] Research Group Leader
Mission Innovation Champion – The Netherlands
I have passion and commitment to fundamental scientific research aimed at the study and discovery of materials for energy applications. I studied chemistry at Bilkent University in Turkey and obtained my PhD in physics from University of Twente in the Netherlands. Subsequently, I worked as a Young Energy Scientist Fellow, first at Harvard University in the USA, and then at Leiden University in the Netherlands. During my previous studies, I have been involved with various small- and large-scale and highly ambitious research projects on materials modelling and discovery for energy conversion (solar cells) and storage (hydrogen and batteries) applications.
I am now leading the Autonomous Energy Materials Discovery [AMD] Research Group at DIFFER and CCER, the Netherlands. At [AMD], we develop and use automated virtual materials discovery frameworks – powered by high-throughput computational screening (HTCS) methods, artificial intelligence (AI) algorithms, and advanced data-infrastructures – to accelerate the discovery of new functional molecules, 2D and 3D materials for energy applications.
[AMD]'s near-term mission is to develop and use HTCS and AI methods to accelerate the accurate prediction of candidate i) electroactive fuels for redox flow batteries and ii) (electro)catalysts for renewable synthetic fuel (i.e. Hydrogen) generation. [AMD]'s long-term vision is to develop a fully autonomous and active-learning based energy materials design lab.

Keywords: Computational Science, Computational Materials, AI for Materials Discovery
Tel: +31 40 3334 936
Address: De Zaale 20, 5612 AJ Eindhoven, The Netherlands