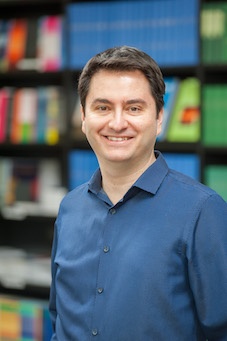 Email: S.Er@differ.nl
Tel: +31 40 3334936
Address: De Zaale 20, 5612 AJ Eindhoven, The Netherlands
Keywords: AI for Science – Computational Science – Energy – Materials – Molecules
---
Academic Profile
My expertise lies in computational chemistry and materials science with a specific focus on researching energy materials. Additionally, I possess knowledge of various analytical and spectroscopic experimental techniques used for the characterization of chemical compounds and processes.
My academic journey began in Chemistry Department at Bilkent University. I completed three research internships during my undergraduate studies. First at the group of Prof. Franziska Gröhn at Max Planck Institute for Polymer Research (MPI-P), where I worked on the controlled synthesis of colloidal nanomaterials. Second at the group of Prof. Eric Oldfield at University of Illinois Urbana-Champaign (UIUC), where I was involved with the computational modelling of boding in molecules. Third at the group of Prof. Andrej Cieplak at Bilkent University where I worked on the in silico optimization of small molecules. I received my PhD in Applied Physics from University of Twente, where I worked with Prof. Paul J. Kelly and Prof. Geert Brocks in the Computational Materials Science group. Throughout my PhD studies, I took charge of modelling various energy storage materials that could be used to store hydrogen in either atomic or molecular forms. As a result, I was awarded the FOM Young Energy Scientist (YES!) Fellowship, which covered both my personal and research expenses for four years. For the initial three years, I worked with the group of Prof. Alán Aspuru-Guzik at Harvard University, where I employed high-throughput and AI-guided computational techniques to unearth promising materials for energy storage and conversion. In the last year of my fellowship, I returned to the Netherlands and worked with the group of Prof. Geert-Jan Kroes at Leiden University, where I used high-throughput quantum chemical calculations to investigate hydrogen molecule dissociation on various metal surfaces.
As of June 2016, I have been leading the Autonomous Energy Materials Discovery [AMD] Research Group at DIFFER, and as of June 2020, I was granted a tenured position at the rank of an Associate Professor. My impact to date has been acknowledged by several monetary and computing grants, invited presentations and interviews, research prizes and a medal. My work has been made possible through the generous support of a range of organizations, including DIFFER, the Dutch Research Council (NWO), Horizon Europe, Fundamental Research on Matter (FOM), Netherlands eScience Center, China Scholarship Council, Sino-Dutch, Harvard, Bilkent and Erasmus Foundation as well as several bilateral collaborations that I primarily established with energy or software SMEs and large enterprises. Additionally, I possess a wealth of experience in communicating research outcomes through contributed, invited, keynote presentations, and public interviews. Moreover, I have been acting as a guest editor for the MDPI Battery Journal, participated in various national and European scientific committees and communities, and reviewed numerous proposals and manuscripts for various scientific journals published by notable publishers. Furthermore, I have played a role in developing lectures and workshops related to data-driven material discovery and have also chaired and coordinated seminars. Besides my scientific leadership, I have also been acknowledged as an energy technology leader through the Global Mission Innovation Champions Program in 2020 and the Netherlands eScience Center Fellowship in 2022. Lastly, I was honoured with the William A. Goddard Medal Award in 2021 for my contributions to Materials Science, which was presented to me following my keynote speech at the Schrödinger Materials Science Summit in New York, NY, USA.
---