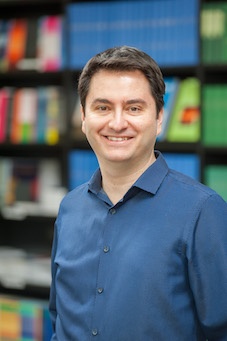 Email: S.Er@differ.nl
Tel: +31 40 3334936
Address: De Zaale 20, 5612 AJ Eindhoven, The Netherlands
Keywords: AI for Science – Computational Science – Energy – Materials – Molecules
---
Academic Profile
Süleyman Er's vision is to advance the frontiers of energy materials research by leveraging computational science and AI methods in close connection with experiments.
Er leads the Autonomous Energy Materials Discovery group at DIFFER, specializing in computational science methods and AI techniques for energy molecule and material research, aimed at driving innovation in high-tech applications. His research group is dedicated to the development and implementation of computational and AI methods that facilitate the discovery of molecules and materials suitable for different energy conversion and storage applications. Er's research encompasses five interconnected approaches: 1) utilizing physics-based computing to gain insights into the properties and behavior of molecules and materials at the nanoscale, 2) creating FAIR (Findable, Accessible, Interoperable, Reusable) databases of molecules and materials that serve the community as references and training resources for machine learning, 3) employing discriminative AI models for the forward design of molecules and materials, 4) developing agent-based and generative AI models for the reverse design of molecules and materials, 5) developing data visualization techniques that facilitate the discovery of molecules and materials while also contributing to the explainability of AI models. Er's research covers diverse molecules and materials, including electrolytes utilized in redox flow batteries, cathodes employed in metal-ion batteries for energy storage, as well as two-dimensional materials and perovskites used for energy conversion.
Er's contributions include numerous research publications, commercially utilized patents, AI-based software tools, and FAIR material databases. These have gained significantly wide interest, with thousands of citations and kind invitations to international conferences. Er has received support from Horizon Europe, Dutch Research Council (NWO), DIFFER, Nuffic, CSC, SURF, HPCEuropa, and eScience Center. Additionally, he has established plentiful bilateral research partnerships with companies in the energy and software industries, amounting to around 5 M€. Er's significant contributions include shaping new strategies, such as the national strategic agenda for computational sciences. Several organizations have recognized his scientific and technological leadership. Notably, he has been acknowledged as a Mission Innovation Champion, a global program supporting the next wave of energy technology leaders. He also received the prestigious Young Energy Scientist and eScience Center Fellowships, solidifying his position as a key figure in computational energy research in the Netherlands. Furthermore, Er earned the William A. Goddard Medal from Schrödinger LLC (USA) for his contributions to computational materials science. Er has supervised a vast number of junior and senior researchers, including postdoctoral and PhD researchers, BSc/MSc students, and software engineers, who have embarked on successful careers in various organizations. His group has also received miscellaneous prizes from events like ACOS and ICT.OPEN.
---